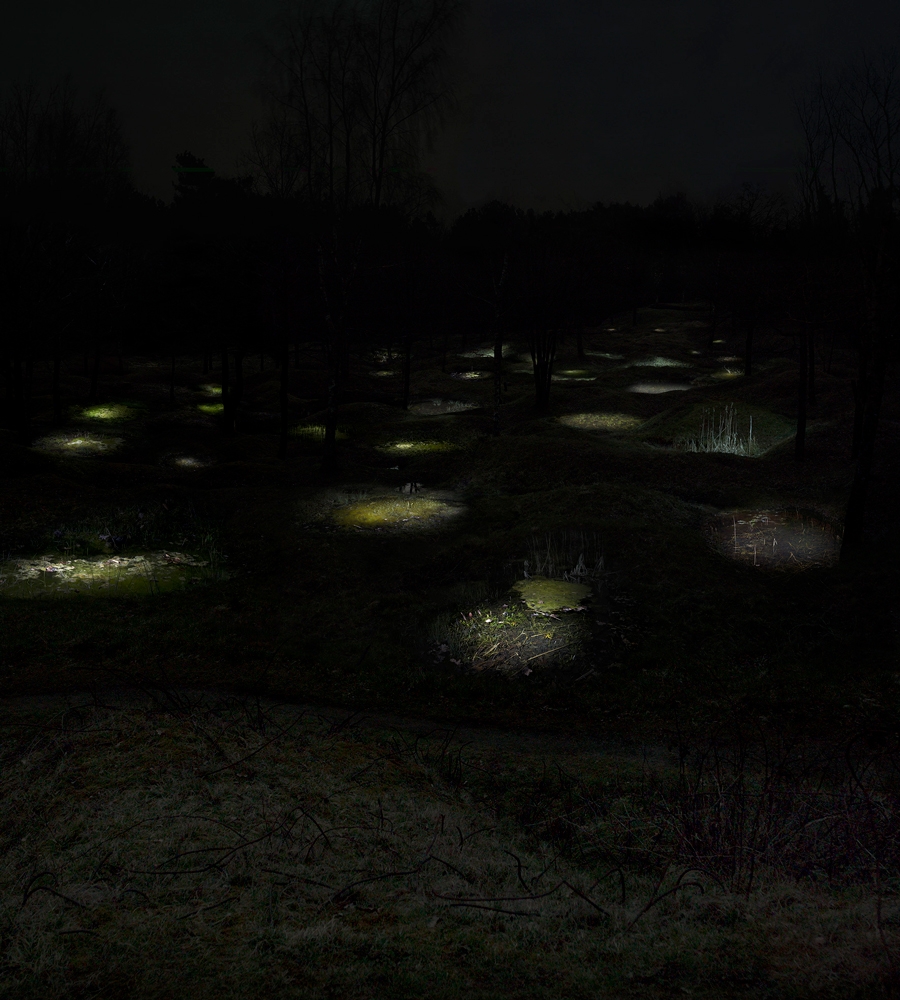 NOCTURNE (ÉTÉ) & NOCTURNE (PRINTEMPS)
---
2015, impression pigmentaire, 77,6 x 297,6 x 5 cm
2016, impression pigmentaire, 133 x 148 x 5 cm
collection privée
Intitulé Nocturne (été), ce panorama photographique est le résultat d'un long travail photographique mené de nuit, sur d'anciens sites militaires de Verdun éclairés à la torche. Assemblage de plusieurs prises de vues, l'œuvre offre ainsi une mise en lumière - au sens littéral du terme - des aspérités du sol et des écosystèmes qui se sont progressivement formés dans les impacts laissés par les bombes. La lumière y joue un double rôle ; en même temps qu'elle opère une sorte de reconstitution mémorielle des bombardements de la Première Guerre mondiale elle vient sublimer la vie qui reprend. Au travers d'une lecture quasi topographique, Julien Audebert nous propose ainsi un témoignage matériel des traces de notre histoire.
Julia Mosse, 2016
---
2015, pigment print, 30 1/2 x 117 1/8 x 2 in
2016, pigment print, 52 1/2 x 58 x 2 in.
private collection
Precisely untitled Nocturne (été), this panoramic photograph is the result of a long photo shoot of former battlefields in Verdun by night, lighted up by torches. Assembling several shots, the work brings to light - in the literal sense - asperities of the ground and ecosystems that have gradually formed in the impacts left by the bombs. The light has a dual role; while it creates a sort of memorial reconstruction First World War bombings it enhances life that slowly returned. Through an almost topographic reading, Julien Audebert gives us a concrete testimony of our history.
Julia Mosse, 2016