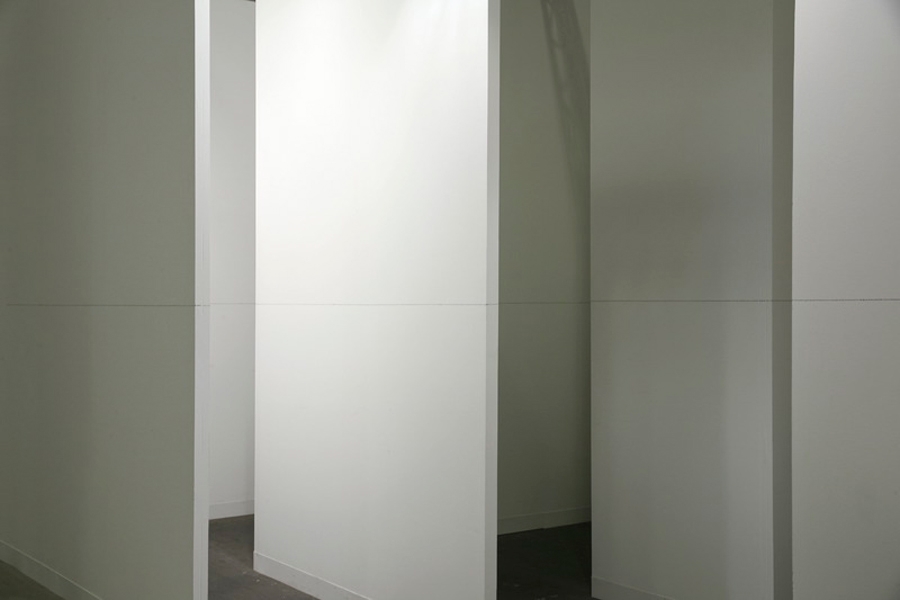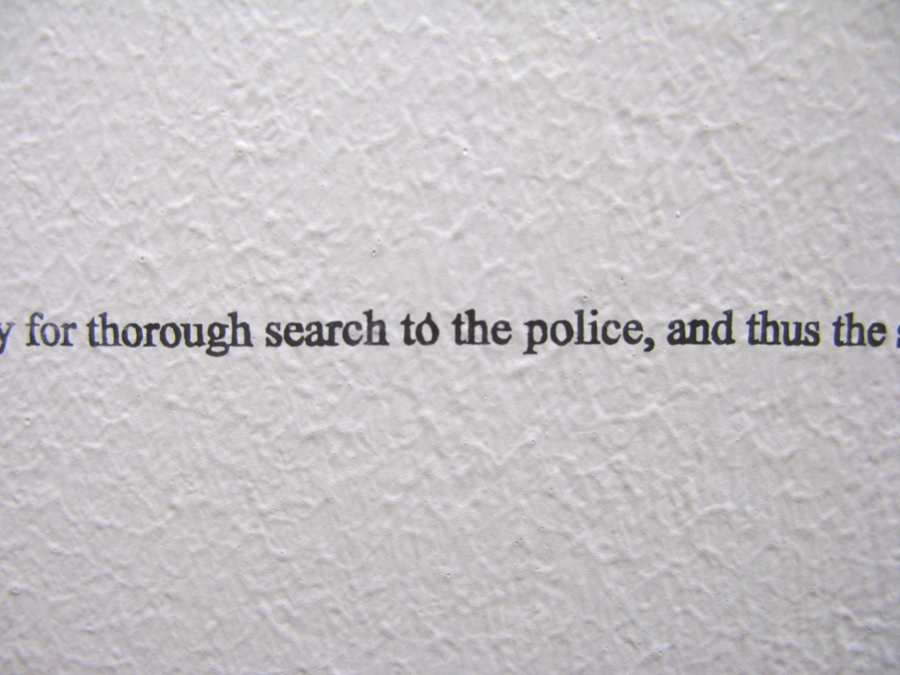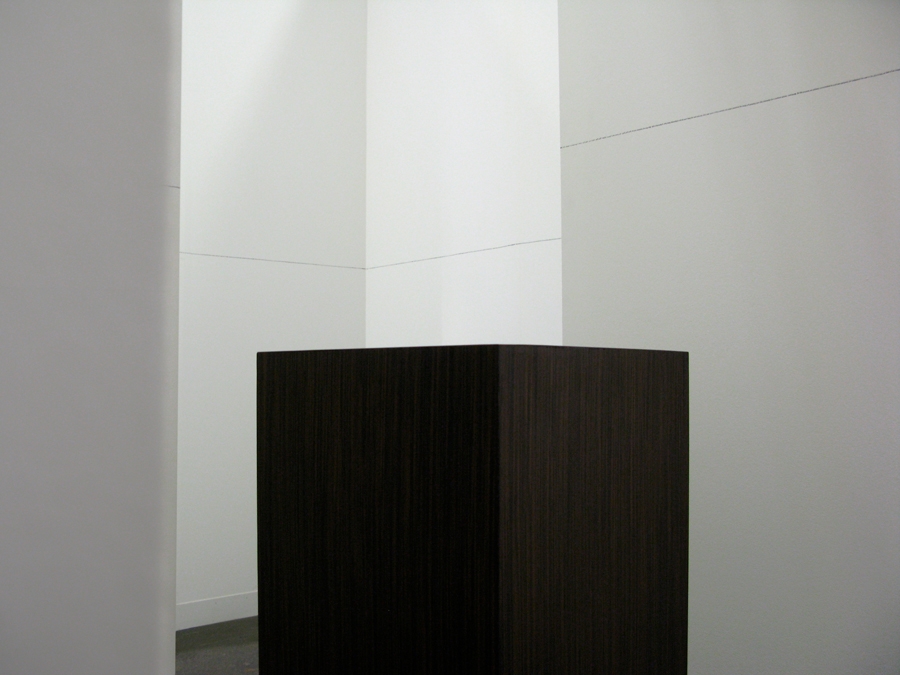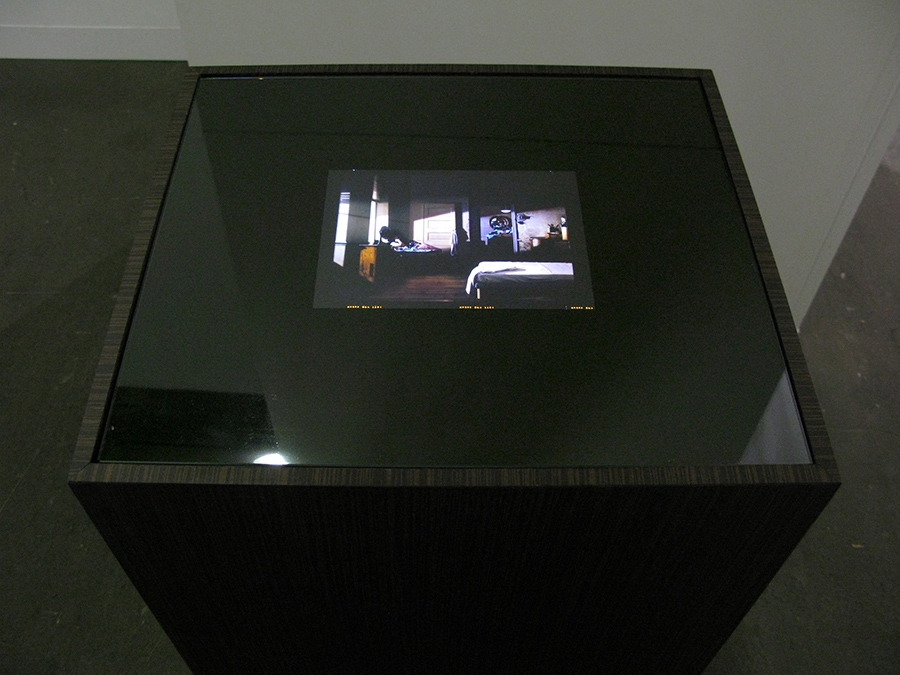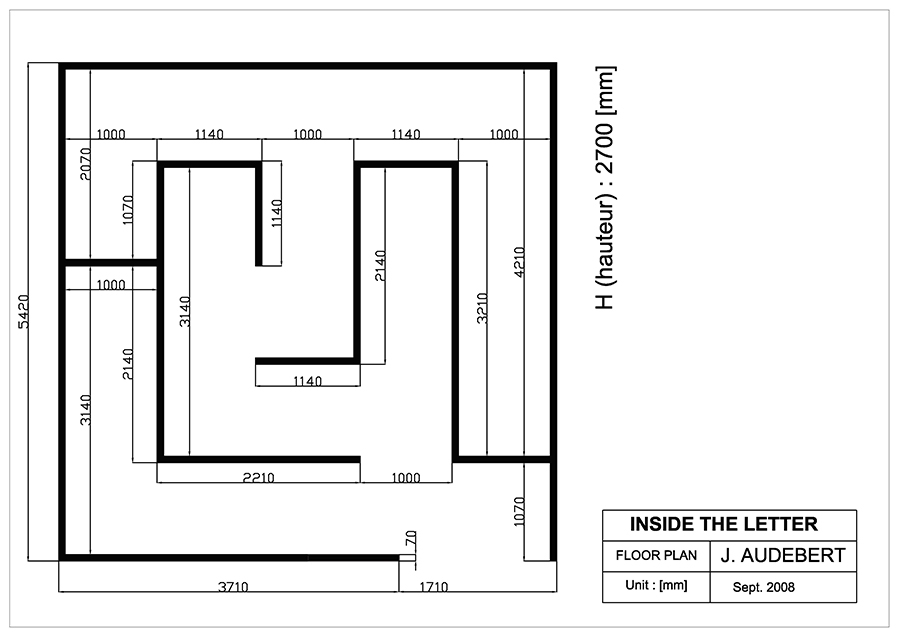 INSIDE THE LETTER (THE CLUE)
---
2008, ektachrome sur socle avec table lumineuse, texte sur mur (structure autoportante)
Sammlung Goetz, Munich / Collection du FRAC Auvergne
L'installation Inside the Letter (the Clue) confronte texte et image. Elle prend pour source la nouvelle d'Edgar Allan Poe, La lettre volée, mais le texte se déploie ici dans un espace labyrinthique et court sur une seule ligne (de 54 mètres) jusqu'à aboutir à un ektachrome reconstituant une scène du film Blade Runner montrant une chambre dans laquelle un miroir renvoie le reflet d'une femme tatouée. Cette juxtaposition d'éléments (visuels et textuels) mène le regardeur au détail (le tatouage), à ce signe infinitésimal qui permettra par ce moyen de résoudre l'énigme et de signifier autrement qu'il faut apprendre à voir.
Lindsey Hanlon, 2008
---
2008, illuminated ektachrome on plinth, text on wall (free-standing structure)
Sammlung Goetz, Munich / FRAC Auvergne collection
The installation Inside the Letter (the Clue) confronts text and image. Taken from the short story of Edgar Allan Poe, the text of The stolen letter is written onto the walls of a labyrinthique space and is displayed on a single line, 54 metres long. In the center of the labyrinth, an Ektachrome made from a reconstruction of a picture from Blade Runner shows a room within a mirror reflects a tattooed woman. This juxtaposition of elements (visual and textual) leads the viewer to the detail (the tattoo) or infinitesimal sign enabling him to sort out the puzzle. This also means that we should learn again how to see.
Lindsey Hanlon, 2008