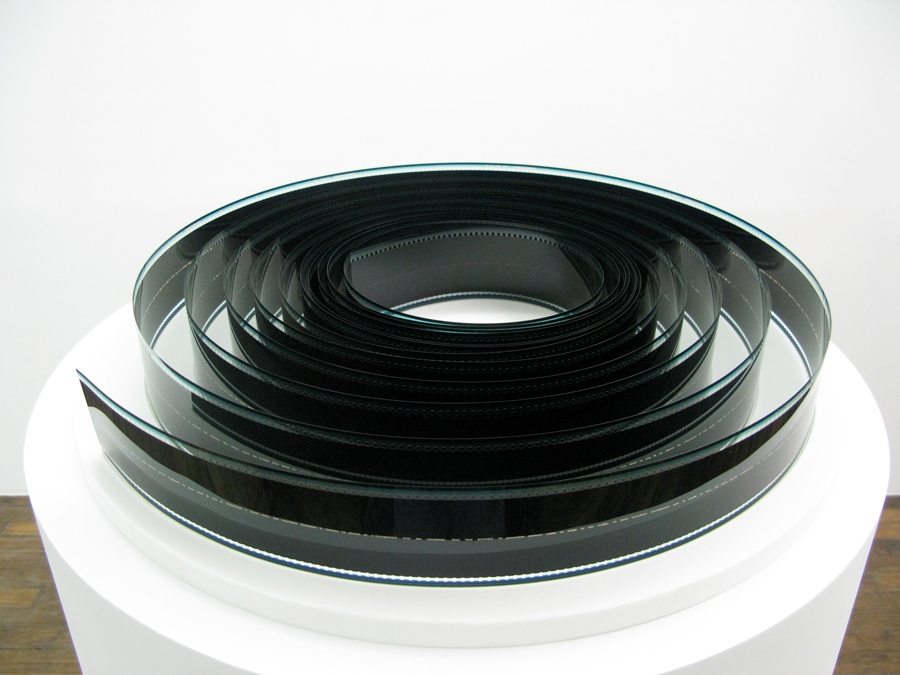 CHANT 23 (LA COURSE DE CHAR)
---
2011, film 15/70 mm (chant 23 de l'lliade d'Homère), disque en marbre de Thassos, socle en bois, plexiglas, hauteur : 132 cm, diamètre : 67 cm
Crédit photographique : Fabrice Gousset
L'œuvre consiste en un texte kinescopé sur un peu plus de 11 mètres de pellicule. ll s'agit d'un passage de L'lliade, une fameuse course de chars organisée par Achille pour les funérailles de son ami Patrocle. On peut y lire la description de cette course depuis le départ jusqu'a l'arrivée du dernier cheval.
ll s'agit d'un film 15/70 mm, à défilement horizontal, le plus large format existant, utilisé pour quelques superproductions et les projections dans les domes ou les salles "Imax".
L'action décrite dans le passage d'Homère ordonne la forme de l'œuvre. ll n'est pas question de projeter ce film, dont ne résulterait d'ailleurs qu'une ligne horizontale, blanche et scintillante d'une durée de quelques secondes, mais plutot de mettre en mouvement le spectateur, littéralement de le faire tourner, comme les chars dans l'arène.
L'ensemble est régi comme si le texte, devenu indissociable de la pellicule, avait généré sa propre forme - en l'occurrence, celle d'une spirale qui laisse visible le texte enroulé. L'inscription de cette course de chevaux évoque aussi évidemment le rapport essentiel du cheval aux premieres heures du cinema (Le galop de Daisy par Muybridge ...), cette affinité des origines, liée a la capture du mouvement.
---
2011, 15/70 mm film (Chant 23 in the lliad of Homer), disc Thassos marble, wooden base, Plexiglas lid, high : 52, diameter : 26,4 in.
This is an extract from The lliad, a famous chariot race organised by Achille for his funeral's friend Patrocle. Here, we can read the description of the race from its start to the last horse crossing the end line.
The piece is a continuous horizontal line, composed by a kinescoped text printed on a film 11 metres long . This is a 15/70mm film, side-scrolling, the largest existing format, used for a few blockbusters and projections in domes or "imax" rooms.
The action described in the passage from The lliad of Homer fashions the shape of the work. There is no question of screening this film, which otherwise would be a horizontal line film, white and sparkling lasting a few seconds, but rather to invite the viewer to wander, literally to make him turn around the film like the chariots in the arena. Therefore, the whole piece is constructed as if the text which became inseparable from the film had generated its own shape - in this case, the one of a spiral making visible the rolled text.
The choice of a horse race obviously refers to the essential role of horses in the early hours of cinema (The Daisy's gallop by Muybridge...), this affinity with the origins associated with the capture of movement.